Corporate Golf is the leader in custom logo golf watches!
Clip-on watches that hang from a golf bag make terrific gifts for tournament players and golf-loving clients. Our unbeatable selection includes classic fob "bag tag" models and one-piece carabiners from leading golf accessories brands and America's top custom watchmaker. For those who prefer wristwatches, Corporate Golf has a wide variety of sporty models for men and women, and for VIP corporate outings, incentive and recognition programs, we also offer fine wristwatches and clocks from Seiko, Movado, and other luxury brands. Every timepiece from Corporate Golf is customizable with your company or tournament logo, and most models can also be presented in custom logo packaging.
Just a part of Corporate Golf's incredible selection is shown below. Please click on any thumbnail picture to enlarge it for detail.
Fob Clip-on Golf Watches One-piece Clip-ons Sport Wristwatches
Classic Fob or "Bag Tag" hanging clip-on watches:






Our top-selling Deluxe Carabiner clip-on watch with brown or black leather strap features a brushed metal case etched with your custom corporate or tournament logo.




Right: The Original clip-on golf watch features a metal case with your engraved logo.


Both the Deluxe Carabiner and Original clip-on watches come packaged in a reusable wooden slide gift box. The wooden box can be imprinted at extra charge with your custom logo (as shown) - or even your invitation copy, so your attendees can "count down" the time until your event!



The Clipper, far left, hangs from a webbed nylon strap in your choice of color and features your custom logo on the dial. Designed as a belt-clip model that reads upside-down, we can have the dials rotated 180 degrees to read straight on while hanging from a golf bag. The Explorer includes a compass (so check the tournament rules!) and a custom logo dial.
Both watches come packaged in a plastic view gift case.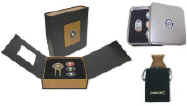 From Ahead (left), the leather fob watch includes your custom logo medallion on the case. This watch will fit in several presentation options, including a fold-over box, tin, or velour pouch. Better yet, combine the watch with a ball-marker cap, and present it in a cap gift box!
Leather strap clip-on models from ProActive Sports (in presentation tin, left) and Navika Golf, with or without a snap-on ball marker (right).
One-piece (fobless) Carabiner Clip-on Watches
One-piece watches that clip on to a golf bag are economical options to our bag tag line.





The carabiner clip-on watch from CMC Golf (right) includes a custom logo medallion and, at your option, can be presented in a small suedecloth pouch.




The "Padlock" carabiner clip-on watch, left, has your custom logo on the dial, and comes at a great price point. The Beacon (near right) and Analog-Digital clip-on models (far right) have your custom logo engraved on the case.

The dial on all three of these watches can read straight on while hanging on a golf bag strap, or upside down as shown to hang from a belt loop or briefcase handle, and all three come packaged in a plastic view gift case.
Sport Wristwatches
Sporty wristwatches with your custom logo also make a great gift for tournament players - or clients.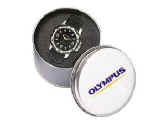 Price-conscious examples include the Campus unisex model with polyeurethane strap, or the Retro for men and women with leather strap. All come presented in gift packaging - the tin for the Campus is shown as an example.



For VIP outings and clients, our selection also includes models from Lacoste, Tommy Bahama, Tommy Hilfiger, Seiko, Pulsar and other fine brands. Left, the Seiko Solar models self-charge from solar energy and never need new batteries. Right, the Tommy Hilfiger Exclusive model.

More Fine Timepieces ...





For awards and incentive programs, we also feature luxury sport and dress watches from Seiko, Movado, Ebel and other leading brands. Shown right: Movado's Moderna museum watch, and Ebel's Brasilia.

Back to golf accessories Back to gifts & awards Back to accessories
[ Golf & Corporate Apparel ] [ Golf Headwear ] [ Golf Accessories ] [ Tournament Gift Boxes ] [ Gifts & Awards ] [ Lifestyle Accessories ] [ Golf Equipment ]
[ Home ] [ Golf Products ] [ Specials ] [ Event Services ] [ About Corporate Golf ] [ Search ] [ Links ] [ Site Map ]
Corporate Golf:
(910) 215-0632
Copyright © Corporate Golf 1997 - 2013. All rights reserved.
Last modified: June 21, 2013