Corporate Golf - Headwear
Feature Brand: Ahead
Golf & Corporate Apparel
Golf Headwear
Golf Accessories
Tournament Gift Boxes
Gifts & Awards
Lifestyle Accessories
Golf Equipment

Copyright© Corporate Golf 1997 - 2013. All rights reserved.
This site last updated 06/21/2013
Corporate Golf:
(910) 215-0632

Whether you're looking for logo golf hats, caps, or visors, look no further - Corporate Golf has the finest golf headwear in the business. Corporate Golf's brands are the top sellers in America's pro shops, and chosen by the PGA Tour, PGA of America, and USGA as the official logo headwear for their tournaments. Choose a cap, hat, or visor from Corporate Golf with your custom-embroidered company or event logo, and have the same great "official headwear" for your corporate outing, golf tournament, or corporate gift stock program!

Click any thumbnail picture below to see the full-size version.

Ahead Headgear. Founded in 1995, Ahead became the #1 selling headwear brand in pro shops. Of course, they made fantastic caps, visors and hats, but their understanding of customer needs what was quickly brought them to the top of the industry. Their innovative strategy of designing multiple versions of a golf course's logo to embroider on the headwear - with the absolute best embroidery in the business - helped their customers sell more headwear to golfers who already had plenty of it.
Ahead has continued that tradition with terrific headwear decorated with exceptional embroidery and other innovative logo technologies - all created by listening to customers and keeping their standpoints in the forefront.

Ahead offers a wide variety of cap, hat, and visor models, including the Ahead Extreme Fit Vintage Twill cap shown right - a favorite of Tour players. Your custom corporate or tournament logo -- or both -- can be applied with Ahead's outstanding custom embroidery or woven emblem appliqués that can show intricate logo detail. Ahead also makes custom logo ball markers and metal accessories, a super line of apparel and outerwear, and wonderful tournament gift box packages to go with their caps. Click here to go to our Ahead page.

Please note: this page is due for an update, and the Imperial, Cali-Fame and Callaway models may be discontinued. In the meantime, please call Corporate Golf at 910-215-0632 for current catalogs or model pictures, we'll update this as soon as we can.
Imperial Headwear, a favorite at the Tour's majors, is notable for applying high-tech to headwear. Imperial offers water-repellent Tactel™ caps, moisture-wicking caps, the Imperial Dry waterproof cap (shown left), and Buzz Off™, a proprietary line of insect-repellent, UV protectant caps, all with Coolmax® sweatbands.



Imperial also has a full line of traditional golf headwear -- cotton caps, men's and women's visors, bucket hats, Hogan caps, winter hats, and great Panama straw and seagrass hats. Their super selection also includes some hard-to-find specialty headwear, like stretch fitted caps, water repellent bucket hats, and long bill caps.

In addition to excellent traditional embroidery, Imperial offers 3-D or "puff" embroidery, appliqués, woven labels, wrap embroidery, textured fill, and other innovative custom decoration methods to make your corporate or tournament logo stand out.
Please call Corporate Golf at (910) 215-0632 for more information, samples, or pricing.

Cali-Fame. Cali-Fame made the first logo merchandise sold in a golf shop, a cap for the opening of Thunderbird Country Club in Palm Springs, CA, in 1949. Cali-Fame remains a headwear leader, with a full line of quality caps, hats, and visors -- and great custom logo embroidery.

Cali-Fame offers soft and constructed billed caps, made in the USA or imported, of brushed, washed, and chino twill, denim, wool, and other fabrics. Solid and two-tone caps can have standard, "pancake" (welted), or rolled trim visors, and leather or fabric back closures. Cali-Fame also makes wide brim hats in natural and colored straw, Panama straw, seagrass, and raffia, in safari, gambler, and women's rolled-brim styles, with fabric or leather hat bands, bucket hats, and visors for men and women.



Cali-Fame's custom logo options include appliqué designs, embossed leather backstraps for caps, and die-cast emblem ball markers that attach to leather hat bands or magnetically to cap brims as well as embroidery.
Please call Corporate Golf at (910) 215-0632 for more information, samples, or pricing.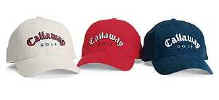 Golf Brand headwear.
If you to prefer to have the logo of a famous golf brand in addition to your own company or tournament logo on your caps, hats or visors, Corporate Golf also offers headwear from our equipment and apparel brands, including TaylorMade, Callaway Golf, Titleist, Adidas, and Ashworth. All offer "front hit" and "side hit" models, so you can have your custom logo on the cap front and the brand logo side, or vice versa.
Corporate Golf:
(910) 215-0632
[ Ahead ]
[ Golf & Corporate Apparel ] [ Golf Headwear ] [ Golf Accessories ] [ Tournament Gift Boxes ] [ Gifts & Awards ] [ Lifestyle Accessories ] [ Golf Equipment ]
[ Home ] [ Golf Products ] [ Specials ] [ Event Services ] [ About Corporate Golf ] [ Search ] [ Links ] [ Site Map ]
Corporate Golf:
(910) 215-0632
Copyright © Corporate Golf 1997 - 2013. All rights reserved.
Last modified: June 21, 2013
Names, logos and images of our suppliers are their proprietary material, used by permission.