Here are a few of Corporate Golf's great specials to help stretch your budget. Call us at (910) 215-0632 for more!
Cutter & Buck Sale Apparel - save 10 - 30% on select models and colors
Cutter & Buck's Astute WindTec jackets and windshirts are on sale at the perfect time for those planning a fall/winter event or shopping for holiday gifts. They're lightweight, breathable, wind-resistant, sure to be appreciated by tournament players, meeting attendees, clients or employees - and will look great with your logo! This model even has a custom embroidery flap on the chest so it doesn't show on the inside.
Above: the men's model V-neck and full-zip versions (also in Big & Tall sizes), and the companion ladies' full-zip (also in women's X sizes). Click any photo above or below to enlarge.
Sale polos include the DryTec Mogul, in a moisture-wicking high-tech 100% polyester birdseye fabric. The companion ladies' model is a long-sleeve V-neck, which can also match up with the long-sleeve men's DryTec Championship polo, also on sale. Select colors of the top-selling DryTec Championship short-sleeve polo for men and women are also on sale.
Above: the men's and ladies' versions of the Mogul in Onyx, the long-sleeve men's Championship in Charcoal, and the men's and ladies short-sleeve Championship in sale color Oyster.
Woven shirts on sale include the Georgetown stripe - long-sleeve for men, and rolled-sleeve for women - and the Classic Nailshead. All are great for holiday gifts, team wear for the office, or a trade show.
Above: the men's and ladies' Georgetown woven shirts in French blue, and Classic Nailshead woven in white.
Examples shown are in stock in all sizes for men and women as of 8/31/14. Please call us at (910) 215-0632 for pricing, current stock status, and other options (of which there are many, from both the in-stock and seasonal collections!). All specials are while stock lasts, and availability can change fast.

Cutter & Buck Sale Accessories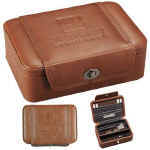 The CB Legacy leather personal valet is among the business and travel accessories on sale, and great for holiday gifts. Keeps watches and jewelry safe and organized at home, or on the road. Your custom logo is tastefully embossed.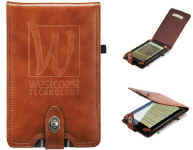 The CB Legacy Kindle case is on clearance at an unbeatable price for the quality, again, with an embossed custom logo. (Note: the size is about 7.75" x 5", to hold a Kindle reader, but not necessarily a tablet.)
Please call us at (910) 215-0632 for pricing, current stock status, and other options.
Mixed Bag Special

Purchase three or more items from CMC Golf, decorated with a die-struck coin ball marker or medallion with your custom logo. Your gifts will be packed in a complimentary suede-cloth valuables pouch, to make the ideal "goodie bag" for your tournament. Choose from clip-on watches, divot tools, money clips, cap clips, and much more. Logo setup is also complimentary! Minimum quantity: 100 per item.
Windbrella Multi-logo Special

Windbrella makes the finest windproof golf umbrellas in the industry, so put one of these big beauties in your "goodie bag", and your tournament players will thank you every time they're caught in the rain. (It could even happen on your outing date!) This special is perfect for charity or co-sponsored tournaments - or a product launch:
Order 144+ at least eight weeks before your event, and get multiple logos, placements, and colors at no additional charge.
[ Home ] [ Golf Products ] [ Specials ] [ Event Services ] [ About Corporate Golf ] [ Search ] [ Links ] [ Site Map ]
Corporate Golf:
(910) 215-0632

Copyright © 1997 - 2014 Corporate Golf.
Last modified: August 31, 2014