Golf Event Planning
Celebrity Appearances and other special elements
Event management in Pinehurst, NC

This site copyright© Corporate Golf 1997 - 2014. All rights reserved.
Names, logos and images of our suppliers are their proprietary material, used by permission.
Corporate Golf:
(910) 215-0632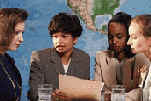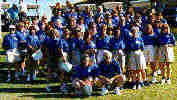 Let Corporate Golf help you - from planning to execution!
Golf's value as a business tool is proven, whether one-on-one or through group events. Golf resort incentive programs, meetings, corporate outings, golf tournaments, and hospitality at pro Tour events may be smaller and/or low-key than in the past, but they're still major investments on which you need to capitalize fully.
Let Corporate Golf's experts help you achieve your objectives and maximize your return by:
Booking celebrity appearances, golf clinics, and other special elements to make any of these events even more special and memorable. We specialize in retired legends and trick-shot artists who are incredibly personable - and extremely cost-effective.

Providing premium brand name golf apparel, equipment and accessories for your participants, whether as custom logo gifts or awards for incentive program qualifiers. These are the most lasting remembrances of any such event or program.

Planning and managing your events in the Sandhills/Pinehurst/Southern Pines, NC area and providing on-site supervision, event photography and other services in the Raleigh Triangle, Charlotte and Piedmont Triad/Greensboro/Winston-Salem, NC areas.

Assisting with opinions and advice based on our event planning experience, which we're delighted to do on a complimentary basis for our merchandise and celebrity appearance clients holding events outside our local area.
Our principals are highly experienced golf event planners and managers, both on behalf of clients since founding Corporate Golf, and as senior corporate executives prior. They have planned and executed highly successful resort meetings, incentive programs - and, of course, golf tournaments and outings. Though we are generally unable to provide turnkey planning and management services outside our area, we invite you to call us if that's what you need - we can probably refer you to someone who can help you if we can't.


Left: Give the right impression from the start with collectible custom invitations featuring panoramic photos of the world's greatest golf courses - probably including the site of your event!
Corporate Golf:
(910) 215-0632

[ Celebrities & Clinics ] [ Destination Management ]
[ Home ] [ Golf Products ] [ Specials ] [ Event Services ] [ About Corporate Golf ] [ Search ] [ Links ] [ Site Map ][ Celebrities & Clinics ] [ Destination Management ]
Site Copyright © 1997 - 2014 Corporate Golf.
Last modified: September 03, 2014