About Corporate Golf:
Contact Us
Custom Logo Embroidery & Services
Internet Keyword:
Corporate Golf


We accept
American
Express.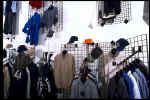 Corporate Golf is a pro shop exclusively dedicated to serving corporate and tournament buyers and event planners. Corporate Golf supplies custom logo golf products for corporate event gifts, client and promotional gift programs, incentives, corporate logo wear, and golf tournament player gifts, and planning and enhancement services for golf events.
Our mission is to help every client make a superior impression, whether they're a corporation utilizing golf (or golf products!) as a marketing or promotional tool - or a tournament looking to become a "must-play" event that maximizes the proceeds for their charity.
Gifts are the most lasting reminder of any event, and the impact of top quality, brand name golf merchandise with your custom logo cannot be underestimated. Corporate Golf has supplied the corporate and tournament markets with the finest selection of golf products from the industry's top brands since 1995.
The exceptional value we provide to our customers has won not only their loyalty, but also awards and acclaim in the business press. What makes us so special? Our:
Unbeatable merchandise selection. Corporate Golf represents the same leading golf brands found in the pro shops of the top golf resorts and country clubs in America, and in the merchandise tents at professional golf tournaments. Our selection of brands and products is much greater than any single shop could possibly stock - all customized with your logo, at low direct volume prices. As golf specialists, we're thoroughly familiar with the product lines of each brand, and as corporate and tournament specialists, we understand your participants and can work within your budget. No one is better equipped than Corporate Golf to help you select the best gifts for your golf event or corporate program.
Platinum service. Corporate Golf's principals are corporate veterans who understand your service needs. You can see our samples in your office (or in our showroom). Your logo will be reproduced faithfully with the finest custom embroidery, engraving, etc. You'll get the best price for your order quantity, and, if you host multiple events, we'll coordinate your purchases and customization to save you even more. We deliver on time, and pay meticulous attention to every detail, from order confirmation to billing. Corporate Golf's entire order process is designed to save you time, effort, and money by doing it right the first time, every time.
Demonstrated golf expertise. Each member of the Corporate Golf team is a lifelong golfer. Our staff has planned and managed dozens of corporate golf outings and charity tournaments, and played in too many to count. But we don't just rely on our experience -- we constantly study the golf industry to make sure that all of our offerings -- products, celebrities, sites, etc. -- are the very best right this moment. Corporate Golf attends every PGA Merchandise Show to see the latest golf products months before they'll start appearing in pro shops, and we test the products we sell. We wear (and wash!) the clothes, use the accessories, and play the equipment, and visit golf resorts and pro tournaments to make sure our knowledge and contacts are up to date. Golf is our passion as well as our work -- so when we're not in the office, traveling on business, or at a client event, we're probably playing golf, watching it, or reading about it. The principals and staff of Corporate Golf are regularly quoted and featured in publications from Corporate Meetings & Incentives to The New York Times because the press recognizes that we're the experts in corporate golf!
We shop the entire golf industry for the finest merchandise, the most accommodating celebrities and sites, and the best values - so you don't have to! We look with only the needs of corporate buyers, event planners, and charity tournaments in mind. So when you need golf merchandise or services, you only need to know one name - Corporate Golf.
How To Reach Us:
(Corporate & tournament inquiries only, please -
consumers, please go to our Links page)
Phone: (910) 215-0632
Fax: (910) 215-0172
Business Hours: M - F 8:30 AM to 6:30 PM Eastern
Corporate Golf is located in the beautiful Village of Pinehurst, NC

We also invite you to use our INQUIRY FORM, however we can respond faster to phone calls or faxed inquiries.
[ FAQ ] [ Custom Services ] [ Management ] [ Customer Quotes ] [ What's New ]
[ Home ] [ Golf Products ] [ Specials ] [ Event Services ] [ About Corporate Golf ] [ Search ] [ Links ] [ Site Map ]
This site copyright © Corporate Golf, 1997 - 2014. All rights reserved.
This page last modified: August 30, 2014
Corporate Golf's Privacy Policy:
We did not design our Web site to deposit cookies on your computer, or in any way collect information about our visitors. We do, however, link to other sites which we do not control, and we make no such representation about their policies.
Corporate Golf collects information from our clients, and potential clients who contact us, only for the purpose of serving them. We do not make our client mailing lists or other client information available to any third party -- and we certainly don't sell it. We do refer clients whose needs are beyond the scope of our services to third-party suppliers. (And we heartily thank our many clients who have referred their colleagues, business partners, customers, and suppliers to us!)
We consider it a service to our clients and potential clients to keep them informed of newly available products and special offers. To do this, we may send them emails, letters, etc. However, we try to keep our alerts occasional, addressed only to interested parties, and to the point. All any client needs to do to be removed from our email and/or traditional mailing lists is ask.