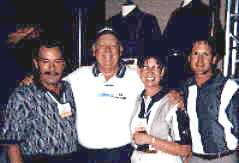 Bill Bryan, Nina Renaud, and Dave Waugh of Corporate Golf with golf legend Billy Casper (in white shirt)
Corporate Golf's Founders:
Are recognized experts, frequently quoted in national publications on organizing and outfitting corporate golf events
Have over fifty years of combined experience in corporate marketing, purchasing, and administration
Have organized and attended countless corporate events including conferences, sales incentive trips, golf tournaments, and outings
Have been playing golf for over eighty five years
Are committed to maintaining their superior expertise in golf and its use in business, and to selecting and training staff to reflect the same goals
Founders Bios:

William J. Bryan
Bill's background includes five years as CEO of The Stonebridge Corporation, a manufacturer/distributor of branded and private label consumer products. Bill also has eleven year's experience as COO and chief sales executives of one of the Midwest's largest consumer product marketing firms. Representing such clients as RJR Nabisco, Seagram's, Beatrice Foods and Tropicana Brands, he conceived and developed new product introductions and national marketing campaign strategies.
The recipient of many national sales awards, Bill has directed and been a featured presenter in sales seminars for the leading consumer products corporations. He also worked with the executives of these companies to make their corporate sales meetings, golf tournaments, promotional events and sponsorships successful and memorable.
A lifelong golfer, Bill honed his skills playing "customer golf" with senior executives. He is the winner of numerous amateur and Pro-Am tournaments. Bill is a member of the United States Golf Association and the Carolinas Golf Association.
Nina Renaud
Nina's corporate career was with multinational giants: Rhone-Poulenc, CBS, Pioneer Hi-Bred International, and Johnson & Johnson. Her experience includes executive positions in finance, sales administration, business development, and overseas operations. Nina was a company and division Chief Financial Officer, and directed operations for a twelve country export territory. Nina also served as head of sales administration and affiliate relations with CBS's international division (which licensed the network's golf coverage!). She is fluent in Spanish and French, with expertise in logo trademark and import/export issues.
Nina was responsible for developing marketing and promotional programs, launching new products, establishing new offices, communicating financial information and policies, and overseeing employee training. To support those efforts, she planned and supervised conferences and seminars, in the U.S. and abroad, for her companies' employees, dealers, customers, and investors.
Nina learned the game of golf from her father - using her mom's clubs - and has played since her teens. She planned her first corporate golf outing within a year of graduating college. Nina is the current president of the Sandhills NC chapter of the EWGA, served on the board of the EWGA Raleigh Triangle chapter, and is a member of the National Association of Golf Tournament Directors, the USGA, and the CGA.


How To Reach Us:
(Corporate & tournament inquiries only, please -
consumers, please go to our Links page)
Phone: (910) 215-0632
Fax: (910) 215-0172
Business Hours: M - F 8:30 AM to 6:30 PM Eastern
Corporate Golf is located in the beautiful Village of Pinehurst, NC

We also invite you to use our INQUIRY FORM, however we can respond faster to phone calls or faxed inquiries.

[ FAQ ] [ Custom Services ] [ Management ] [ Customer Quotes ] [ What's New ]
[ Home ] [ Golf Products ] [ Specials ] [ Event Services ] [ About Corporate Golf ] [ Search ] [ Links ] [ Site Map ]
Copyright © Corporate Golf 1997 - 2014. All rights reserved.
Last modified: August 30, 2014