Corporate Golf presents custom and pre-selected golf tournament player gift packages from the top names in golf, like Ahead, Cutter & Buck, CMC Golf, Imperial, TaylorMade, Titleist, and more, in custom logo gift boxes or pouches. Whether you call them player gifts, "goodie bags", or even "giveaways", your logo gift set will arrive ready to hand out to the players in your golf tournament or corporate outing.
Boxed or bagged gift sets also make great gifts for resort meetings, corporate hospitality tents, incentive program qualifiers, or clients, and you'll find just the right one for your group among Corporate Golf's wide selection. Our golf tournament gift boxes are labeled with your custom corporate or tournament logo, and if they include apparel, are sorted or labeled by size to arrive ready for you to distribute to the players or participants.
Gift sets from Corporate Golf can include golf balls, golf and personal accessories, headwear, apparel, and outerwear -- all with your custom logo. Our selection includes divot tools, cap clips, money clips, credentials holders, clip-on watches, wristwatches, caps, visors, shirts, windshirts, vest, jackets, sunglasses, first aid kits, and many, more individual items from a host of top brand names, so the possible combinations are almost endless. Whether you need a world class gift package or one that's high quality, but easy on the budget, Corporate Golf is your source.
Examples are shown below -- please click on any thumbnail picture to enlarge it for detail. These represent just a fraction of the selection from Corporate Golf. Please call us at (919) 680-3070, and let us help you select the perfect gift package for your event.
Cap or Visor Gift Boxes Golf Apparel Gift Boxes Pouch Sets
Golf Accessories Boxes Golf Watch Boxes



Headwear Gift Boxes.


A well-made, brand name golf cap will be appreciated by tournament players or corporate clients, and worn on and off the course. With an attractive custom logo, it's a great player gift that will not only remind your guests of your event, but generate interest among others.
Turn your cap -- or visor -- from Ahead, the #1 selling brand of golf headwear, into a complete and economical player package with your choice of metal and leather golf and personal accessories in a gift box like the example shown. All items can have your custom tournament or corporate logo.

Apparel Gift Boxes.



Corporate Golf offers tournament gift boxes with custom logo golf apparel, plus caps and/or other gifts from Ahead, Cutter & Buck, Bobby Jones and other brands. Choose a shirt, windvest, windshirt, jacket, or fleece -- there's a gift box to fit almost any apparel item.



Ahead gift sets come in your choice of traditional gift two-piece gift boxes (see above left) or one-piece folding boxes in several sizes and styles (see above right). All Ahead apparel gift boxes include your custom logo, are labeled by size for ease of distribution, and can include your choice of custom metal or leather golf or personal accessories. Ahead's large tournament boxes fit headwear as well as apparel and accessories, like the custom logo gift box with windshirt, cap, and metal accessories shown right.


For a world-class player gift package, or to show your appreciation for the top producers on your incentive trip or your most valued clients - Bobby Jones apparel can be presented in a signature gift box.

Callaway Golf custom logo golf ball pouches.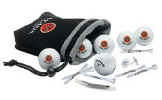 Six custom logo golf balls in your choice of model come packed in an embroidered velour valuarbles pouch that includes a tee pack (right), and which your tournament players (or clients!) will use long after they've lost the balls.



Safe-Tee™ Kits.



Take your choice of a nylon zip bag silk-screened or embroidered with your custom corporate or tournament logo or a custom-embroidered faux leather drawstring valuables pouch. Either way, it's packed with emergency first aid supplies as well as tees, ball markers and a divot tool in a convenient folding organizer. From Sun Mountain.
Custom pouch sets.
Here's the process: you pick a valuables pouch from Ahead, CMC, or Texas Leather. We'll customize it with your logo, and pack it with your choice of one, two, three or more golf and/or personal accessories from the same brand, also with your custom logo. What have you got? A great gift bag, ready to hand out at your event.





For example, you can choose a fine leather pouch, or a suedecloth pouch or shoe bag (with shoehorn) from CMC Golf. The pouch, and each gift in it, will have a custom die-struck medallion or ball marker with your corporate or tournament logo.




CMC has an extensive selection of metal and leather gifts, including several models of pitch mark repair tools, hat clips, money clips, key rings, bag tags, towel hooks, bottle openers, and lots more.
Ahead's selection of metal and leather gifts is equally extensive (click here to see the gift pack catalog). Texas Leather has the largest selection of pouches and shoe bags, and the gift choices include leather bag tags, towel caddies, and divot tools.

Golf Accessories Gift Boxes.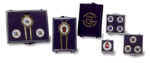 Corporate Golf's selection of gift-boxed golf accessories comes from Ahead, Golf Design, CMC, and the World Golf Collection. In addition to the accessories, many of the boxes can have your custom corporate or tournament logo. Just a few examples are shown here.


Above left and left: Part of Ahead's selection of metal and leather accessories -- bag tags, repair tools, cap clips, money clips, key tags, and more -- and Ahead accessories gift boxes. Above right and right: Golf Design accessories come in customizable plastic gift cases,- or reusable wooden keepsake boxes with your etched custom logo.



Tournament gift boxes made by Sumi-G: at left, the combination gift pack of scorecard cover with embossed custom logo, and divot repair tool and money clip, each your custom logo ball marker medallion in a distinctive rounded square shape. At right, the three-pack of head covers for a driver, fairway wood, and hybrid with your embroidered custom logo. The head covers are simply extraordinary - so easy to snap on and off, you can do it one-handed - yet they'll never come off by themselves.


Left: World Golf Collection's "Tournament in a Box" with sunglasses, custom label sunscreen, and custom logo single-use camera, all in a custom box. Right: two of CMC's assortment of accessories gift boxes.


Those buying substantial quantities for corporate premiums, large annual tournaments, etc. can also have custom-designed gifts in custom logo boxes. (Gifts can even be made the shape of your logo!) Minimum quantities vary by item and manufacturer, but 500 is typical.




Watch gift boxes.
Corporate Golf also has wristwatches and clip-on golf watches in gift boxes with other items. A few examples are shown.



Left: Callaway sport watch gift box with six custom logo golf balls in your choice of models.
Right: metal gift tin with custom logo clip-on watch and divot tool key fob.



Left: custom logo carabiner clip-on golf watch boxed with metal accessories.


[ Golf & Corporate Apparel ] [ Golf Headwear ] [ Golf Accessories ] [ Tournament Gift Boxes ] [ Gifts & Awards ] [ Lifestyle Accessories ] [ Golf Equipment ]
[ Golf Products ] [ Specials ] [ Event Services ] [ About Corporate Golf ] [ Search ] [ Links ] [ Site Map ]

Corporate Golf:
(910) 215-0632
Corporate and tournament inquiries only, please!
Consumers, please see our Links page for retail sources for our brands.
Copyright © Corporate Golf 1997 - 2010. All rights reserved.
Last modified: June 21, 2013
Names, logos and images of our suppliers are their proprietary material, used by permission.