Corporate Golf -
Golf Accessories

Golf Watches
Golf & Corporate Apparel
Golf Headwear
Golf Accessories
Tournament Gift Boxes
Gifts & Awards
Lifestyle Accessories
Golf Equipment

Home
Golf Products
Specials
Event Services
About Corporate Golf
Search
Links
Site Map

Copyright© Corporate Golf 1997 - 2014. All rights reserved

This site last updated 09/03/2014
Corporate Golf:
(910) 215-0632
Tee prizes, player gifts, golf tournament favors -- whatever you call the golf accessories in your tournament "goody bag", sales gift stash, or company store catalog, Corporate Golf is your source. Whether you want a single golf accessory, or a world-class package of player gifts, we have everything a golfer needs -- all with your custom company or tournament logo.

Corporate Golf's selection of these custom logo products is from the top brands in golf, like Ahead, CMC Golf, and TaylorMade Golf. So even if you call these items golf giveaways, they'll never end up as throwaways. Your tournament players or corporate clients will appreciate and use the high quality, name brand products you buy from Corporate Golf for years to come.
Our selection includes custom logo divot repair tools, cap clips, bag tags, golf umbrellas, and golf towels. Some golf accessories can even be made in the custom shape of your logo!
But Corporate Golf offers so many more golf accessories with your custom logo! Shoe bags, pouches for valuables, cell phones, and eyeglasses, and first aid kits. Club head covers, club cleaners, golf gloves, cart mittens, and rain hoods. Scorecard and rule book covers. Picture frames for team photos. Sunglasses. Golf clip-on watches and wristwatches (on a separate page, please click here to see it!). Money clips, credentials holders, bottle openers, and many other small accessories. Not to mention golf bags, travel covers, and other items we'd call golf equipment. (Including golf balls!)
If you'd prefer not to stuff goody bags, or would like your client gifts boxed for presentation, we offer pre-selected and custom gift bags and boxes from some of our top brands, including Ahead and CMC Golf. Our choices range from small boxed sets of accessories like repair tools and money clips, to golf balls packed in a velour or leather pouch, to custom-labeled gift boxes with your choice of a cap or cap and garment with or without other gifts. Please click here to go to our Tournament Gift Box page.

Below are some examples of our golf accessories choices. Click any thumbnail to see the full-sized version. And if you don't see exactly what you want, please call us at (910) 215-0632. This is just a fraction of our selection!


Divot Repair Tools.
Corporate Golf offers world-class tools from the top brands in the industry, in brass, nickel, lacquered metal, and other high-quality materials. Your players will keep and use these tools for years, seeing and showing off your logo with each round. (And some models can even have two custom logos - say, your tournament logo plus a sponsor's, or your company logo and an event logo.)
With dozens of styles ranging from traditional to contemporary in look, and including high-tech and multi-purpose tools, there's a model to satisfy every group profile. Some examples are shown, click any image to enlarge for detail.

Clasp-back and flat tools, all with removable magnetic custom logo ball markers: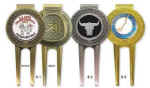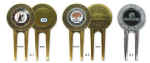 By Ahead, traditional clasp tool in antique brass, antique pewter, and shiny gold finish, and flat tool in brass and shiny nickel.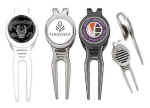 The clasp-back "Cool Tool" from CMC Golf comes in several finishes, and the Cool Tool+ features a second custom logo ball marker.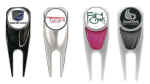 Among CMC's flat tool choices: the "Z-tool-T" in black or chrome, Gem tool with colored insert.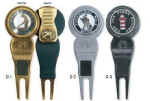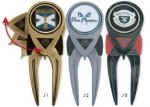 Ahead's contemporary "Turf Doctor" clasp tool and "Club Groove" tool featuring a pop-out prong for club cleaning. Both come in brass, matte nickel or black nickel finishes.
"Switchblade" styles with retractable prongs are popular with gadget-lovers: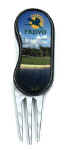 CMC Golf's new 3-prong Jackknife with full-color logo.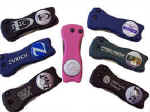 The original Zivot switchblade tool can have a custom logo engraved on the case and/or on the removable magnet ball marker.

Cap Clips.

Magnetic clips slip onto to visors or cap brims, and hold custom die-struck coin ball markers ready to use on the green. Corporate Golf offers hat clips from the leading brands: Ahead, CMC Golf, and Golf Design. Shown left: Ahead's round hat clip model is on the black visor, Golf Design's oval cap clip is on the red.




Right, Oval cap clip from CMC Golf, and CMC's duo of Cool Tool divot tool and round cap clip.
Bag Tags.
Corporate Golf's selection of bag tags in leather, metal, and wood is from Ahead, CMC, Texas Leather, and more. Several models are two-sided, with a flap to hold a business card or other identification, and can also be used as luggage tags for travel.



Your custom logo is beautifully embossed or engraved, or displayed on a die-struck, painted medallion insert.
Texas Leather's fine bridle leather 2-sided bag tag with embossed and color-filled logo; Ahead's leather and metal bag tag with medallion insert comes with a matching leather buckle strap.
Golf Umbrellas.


Corporate Golf features the world's finest golf umbrellas, from Windbrella, TaylorMade, and other top equipment brands. The wind-proof double-canopy 68" Windbrella (left) is the ultimate in rainy-day play protection, but all our umbrellas are sturdy and big (at least 62") - and have lots of room to display your custom logo!
Golf Towels.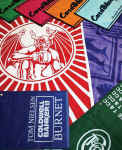 Choose from an array of colors and styles in cotton and microfiber from CMC Golf, Club Glove, and the top golf equipment brands. All with your corporate or tournament logo embroidered or, on some styles, woven into the fabric. We even have high-tech cooling towels (with your printed logo) that keep players comfortable on the hottest day!
Shown: TaylorMade SLDR microfiber cart towel, heavy custom-woven logo jacquard towels (your choice of terry or velour) by CMC Golf.
Custom-shaped accessories.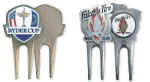 Divot tools, cap clips, ball markers, zipper pulls, bag tags and other items can be made in custom shapes - for example, the shape of your logo. Examples shown: custom cap clip made by CMC Golf, custom repair tools made by Ahead, custom leather bag tag by Texas leather.
Please note: higher minimums apply for custom shapes, which vary by material and maker, but a minimum of 500 pieces is typical for custom-shaped cast metal items.
And much more!
Again, just a tiny fraction of the options Corporate Golf offers for items, materials, and brands are shown as examples. From left: Shoe bag with shoe care kit and "Safe-tee kit" with 40 first aid and other items for any course emergency, both by Sun Mountain. Sumi-G's extraordinary snap-on head covers - the ultimate in protection for valuable clubs. Wood, leather and silver photo frames by YRI. Valuables pouches in genuine suede and full-grain leather by Texas Leather.
Some of our other choices may be featured on other pages, but most are not.
Please phone us at (910) 215-0632 for more information about any of the items shown, or to see others that fit your budget. Pricing depends on your order quantity - and for your total order. We pass on the savings for the purchase of multiple items from the same manufacturer with the same logo method, and discount multiple item purchases even when that doesn't apply.
[ Golf Watches ]
[ Golf & Corporate Apparel ] [ Golf Headwear ] [ Golf Accessories ] [ Tournament Gift Boxes ] [ Gifts & Awards ] [ Lifestyle Accessories ] [ Golf Equipment ]
[ Home ] [ Golf Products ] [ Specials ] [ Event Services ] [ About Corporate Golf ] [ Search ] [ Links ] [ Site Map ]

Corporate Golf:
(910) 215-0632
Copyright © Corporate Golf 1997 - 2014. All rights reserved.
Last modified: September 03, 2014
Names, logos and images of our suppliers are their proprietary material, used by permission.