Corporate Golf - Accessories


Golf Products
Golf & Corporate Apparel
Golf Headwear
Golf Accessories
Tournament Gift Boxes
Gifts & Awards
Lifestyle Accessories
Golf Equipment




Internet Keyword:
Corporate Golf
Corporate Golf:
(910) 215-0632
For corporate or other institutional volume order inquiries only!
Our links page has referrals to consumer sources for our brands.
Like the shops at the finest golf resorts, Corporate Golf has a full selection of fine fashion, business, travel and personal accessories - but with your custom corporate or event logo or company name, rather than the site's. These make ideal corporate gifts for your clients or meeting guests. Whether they play golf or not, they'll recognize the value of these quality, brand name products and put them into use for years to come.
Just a few of the many choices Corporate Golf offers as a lasting reminder of your event, or just to show your appreciation, are shown below. Please click on any thumbnail to enlarge it for detail.
Please note: this page is due for an update and may show discontinued products.

Belts.
Corporate Golf has styles for golf, casual, or business wear for men and women from YRI, Adidas, Ashworth, and other fine golf brands. Materials include leather, exotic-patterned leather, and fabric. Left, custom-logo concho belts by YRI.
Business, Tech, Travel, and Personal Accessories of top quality leather.




Corporate Golf's selection includes datebooks, business card cases, writing folios, holders for electronic gadgets, wallets, money clips, handbags, and much more! Choose from many fine name brands - all beautifully embossed with your logo.

Above right: bridle leather travel valet and executive desk set from Texas Leather.
Below left: Leather money clip card case, flash drive case, and shoeshine kit, all from Cutter & Buck

Sport, Travel, and Business Bags and Accessories. Golfers, sports enthusiasts, and road warriors alike will appreciate our sturdy and attractive duffels, carry-on bags, weekenders, tote bags, golf travel covers, briefcases, and more from top brands like Cutter & Buck, Club Glove, Ogio, TaylorMade and Sun Mountain.
Some examples:


From Ogio Bags, the "Executive" wheeled briefcase and "Monster" golf travel cover. There's no better gift for clients or employees who attend trade shows -- they'll thank you for saving their backs! -- and the Monster is the ultimate for golf trips. All Ogio bags are available with custom logo embroidery.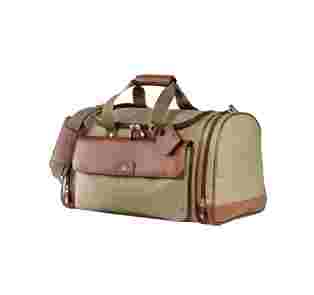 Cutter & Buck's travel and business bags and accessories in leather or leather-trimmed canvas twill make great gifts for meetings and corporate programs as well as golf events. The collection includes duffels, briefcases, dopp kits, and writing pads, all of which can be embossed with your logo.



Left: Sun Mountain's Club House collection of sport bags. Right: Sun Mountain's shoe bag with care kit is perfect for golf or travel.


Golf and sport watches. Corporate Golf has an extensive collection of clip-on golf watches and wristwatches from the leader in golf timepieces, as well as watches and clocks from Seiko, Movado, Coach and other famous names for VIP gifts and incentives. Click here for more on watches and timepieces or call us at (910) 215-0632 for details.




More, more, more! Sunglasses and cases, picture frames, serving ware, beverage sets, and more, crafted of the finest materials by top brands. Please call for ideas.
Pictured left: ice bucket and small cocktail shaker from the YRI Silver Collection, customized with a logo medallion.


See also our Golf Accessories and Golf Gifts pages. Please call Corporate Golf at (910) 215-0632 for more ideas, for pricing, or to place an order. (Corporate or tournament inquiries only, please! Consumers, please go to our Links page.)
[ Golf & Corporate Apparel ] [ Golf Headwear ] [ Golf Accessories ] [ Tournament Gift Boxes ] [ Gifts & Awards ] [ Lifestyle Accessories ] [ Golf Equipment ]

[ Home ] [ Golf Products ] [ Specials ] [ Event Services ] [ About Corporate Golf ] [ Search ] [ Links ] [ Site Map ]
Corporate Golf:
(910) 215-0632
For corporate or other institutional volume order inquiries only!
Our links page has referrals to consumer sources for our brands.
This site copyright © Corporate Golf 1997 - 2013. All rights reserved.
Names, logos and images of our suppliers are their proprietary material, used by permission.
This page last updated 06/26/2013