Corporate Golf -
Ahead Headwear

Golf Products
Golf Accessories
Tournament Gift Boxes
Golf Gifts & Awards
Accessories
Golf Equipment
Golf Apparel
Headwear

This page last updated 09/03/2014

Copyright© Corporate Golf 1997 - 2014. All rights reserved
Logos and images © Ahead®. Used by permission.

Corporate Golf:
(910) 215-0632
For corporate or other institutional volume order inquiries only!
Our links page has referrals to consumer sources for our brands.
Corporate Golf is pleased to offer Ahead's full line of golf caps, visors and hats as well as Ahead golf accessories, apparel, and gift packages with your custom logo for your corporate event, gift program, or golf tournament.

Launched in 1994, Ahead grew rapidly to become the # 1 selling brand of headwear in golf pro shops. The company is known not only for making terrific caps, hats, and visors, but also for outstanding custom logo embroidery and innovative other customization methods.
The Ahead Headgear line includes soft and hard crown caps, fitted caps, visors, bucket hats, straw hats, rain, sun and cold-weather headwear. The Ahead Vintage Twill cap is the most famous (it's America's top-selling golf cap!), and comes in three cuts, a wide variety of color choices, both solid and with contrast trim, and "ballmarker cap" versions with a magnetically attached marker. With a stunning array of other models in natural and high-tech performance fabrics in a variety of finishes, there's something for every taste and occasion.
Your custom logo options include regular and 3-D embroidery, woven emblem applique, rubber applique, and the new printed Vintage label that's great for logos with lots of small details. Want a second logo on the side or back? No problem! And for golf tournaments (or any corporate event), how about this option: you can not only have your company and/or event logo on all the caps - but you can personalize each one with the participant's name or initials to make your guests feel extra-special!
A small sampling of styles are shown below; please click on any picture to enlarge for detail.
Click here to open the full current headwear catalog in a new window.
Please call us at (910) 215-0632 to see samples, or for pricing based on your quantity and logo or logos.
Above, left to right: Ahead Vintage Twill Classic cut solid cap in Royal, Extreme Fit Sandwich Bill cap in Cobalt/Vintage White, and Textured Poly "slouch" cap in White/Cobalt. Below, left to right: Extreme Fit solid ballmarker cap in Deep Red, mid-profile visor in Sage, Gambler straw hat with pleated hatband


Above: Women's clip-on and bungee cord back visor models are shown in solid and two-tone twill, plus a detail of the bungee cord that makes this style so comfortable to wear. Other choices for the ladies include womens' cut caps in twill and performance fabric, ballmarker caps and visors, big-brim visors, and a variety of straw hats and visors.
Ahead also makes a wide range of golf accessories - divot tools, hat clips, money clips, credential holders, bag tags, fob watches, and many more gifts in metal and leather. Nearly all can use the same custom die-struck logo, so you can buy different gifts for annual tournaments or multiple events without ever needing a new setup. Accessories sets can also be presented gift-boxed.

Ahead Authentics apparel and Kate Lord women's apparel offer classic and up-to-the minute styles, quality construction, and, of course, fabulous logo embroidery.
And these choices can be packaged as gift sets for your golf tournament players, resort meeting attendees, or corporate hospitality tent guests. For example, a color-coordinated shirt and cap (or windshirt and rain hat), plus a selection of accessories, can all go in a tournament gift box with your custom logo label. Of course, each item will be embroidered or decorated with your custom corporate or event logo - and garment gift boxes will arrive sorted and labeled by size, all ready to distribute.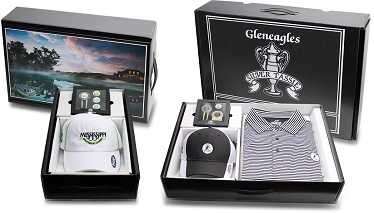 Click here to see the full menu of catalogs, including accessories and apparel as well as headwear.
Please give us a call at (910) 215-0632 if you are looking to place a corporate or tournament order for Ahead headwear, accessories, apparel or custom-boxed gift sets and would like more information, paper catalogs, a price quote, or to see samples.
If you a consumer, please call or visit the pro shop at your favorite course or your local golf retailer. We do not sell to individuals for personal use.
[ Up ] to Headwear
[ Golf & Corporate Apparel ] [ Golf Headwear ] [ Golf Accessories ] [ Tournament Gift Boxes ] [ Gifts & Awards ] [ Lifestyle Accessories ] [ Golf Equipment ]
[ Home ] [ Golf Products ] [ Specials ] [ Event Services ] [ About Corporate Golf ] [ Search ] [ Links ] [ Site Map ]
Corporate Golf:
(910) 215-0632
For corporate or other institutional volume order inquiries only!
Our links page has referrals to consumer sources for our brands.
Copyright © Corporate Golf 1997 - 2014. All rights reserved.
Last modified: September 03, 2014