What distinguishes Corporate Golf from promotional products suppliers?
Selection and expertise. Each of Corporate Golf's premium brands is sold in the pro shops of top resorts and country clubs, and in some cases at select high-end specialty retail shops. None are widely available for corporate or tournament sales.
These upscale brands offer exceptional products that project a superior image of your organization and/or event, and exceptional service including superb logo embroidery.
Corporate Golf is as proud to represent our Premium Brands as you will be to present these fine garments to your clients or event participants.
Please go directly to the page for any of these premium brands:
Fairway & Greene Zero Restriction Outerwear Bobby Jones Golfwear

A brief description of several additional premium brands follows.
Please phone us at 910-215-0632 for more information, catalogs, etc. for these and other premium brands.
Donald Ross Sportswear E.P. Pro Carnoustie Sportswear
Please click on any image to see it full-size.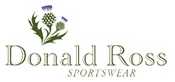 Donald Ross Sportswear is a luxury line designed for the gentleman golfer who wants classic looks, craftsmanship, and attention to detail - and the latest technology for comfort and performance on the course. Donald Ross delivers this with knit golf shirts, slacks and shorts exclusively in 100% moisture-wicking, quick-dry fabric, and weather-resistant performance layering pieces - all featuring classic styling, textures and patterns. Woven dress shirts in 100% fine cotton, and sleeveless and long-sleeved zip pullovers in ultra-fine lambswool and Merino wool for the clubhouse and casual wear round out the line.

E. P. Pro makes classic women's golf sportswear in natural cotton, high-tech perfomance microfiber, and blends. An extensive assortment of basics - solid and stripe golf polos, long-sleeve zip mocks, cable knit sweaters and jackets - is kept in stock year round, and the seasonal fashion collections offer many more apparel and outerwear choices.

Carnoustie Sportswear crafts a full line of premium men's apparel and a select collection for women emphasizing luxury natural fibers: 2-ply double-mercerized cotton lisle, Pima interlock, brushed cotton suede, Zegna Baruffa Merino lambswool, and baby alpaca.









The menswear includes knit golf polo shirts in solids, stripes and jacquards, knit mocks, woven dress shirts, cable and argyle vests and sweaters, knit and brushed cotton zip pullovers, jackets, and slacks. The women's collection includes full-zip jackets, vests and half-zip pullovers in brushed cotton suede and Pima zip mocks. The core basics and classic colors are in stock year-round, augmented by seasonal fashion models and colors.
Please phone us at 910-215-0632 for more information, catalogs, etc. for these and other premium brands. (Corporate and tournament inquiries only, please!)
[ Cutter & Buck ] [ Ahead Authentics ] [ Adidas ] [ Fairway & Greene ] [ Zero Restriction ] [ Bobby Jones ] [ More Premium Brands ]
[ Golf & Corporate Apparel ] [ Golf Headwear ] [ Golf Accessories ] [ Tournament Gift Boxes ] [ Gifts & Awards ] [ Lifestyle Accessories ] [ Golf Equipment ]
[ Home ] [ Golf Products ] [ Specials ] [ Event Services ] [ About Corporate Golf ] [ Search ] [ Links ] [ Site Map ]
Corporate Golf:
(910) 215-0632
Corporate and tournament inquiries only, please!


Copyright © Corporate Golf 1997 - 2013. All rights reserved.
Last modified: September 03, 2014
Company names, logos and images are the proprietary material of our suppliers, used by permission.